Here you will learn more about our community's life. If you are curious, take a look at our  calendar to find out when we'll meet next. We are happy for each new face. You can also ask for more information in our  church office. In the following we are going to present to you a series of our community's events, institutions and opportunities. You will receive more information also at our  church office.
To congregate. To feel God's vicinity. To Listen to God's word. To sing and pray together. Our service is all that and much more. We invite you cordially to celebrate service together with us in German and Italian language.
Normally we celebrate service every first and third Sunday of the month and on important ecclesiastical holidays at our Evangelical-Lutheran church in Florence (Lungarno Torrigiani, 11). Furthermore once a month in Pisa and Bologna.
"Every newborn child brings the message from God to us that God has not lost his faith in humanity"
RabindranathTagore
Children are most welcome in our community. We regularly arrange for day-longfamily events, but also recreation time for families. In our parish hall we have a childrens' room with some toys and many children books.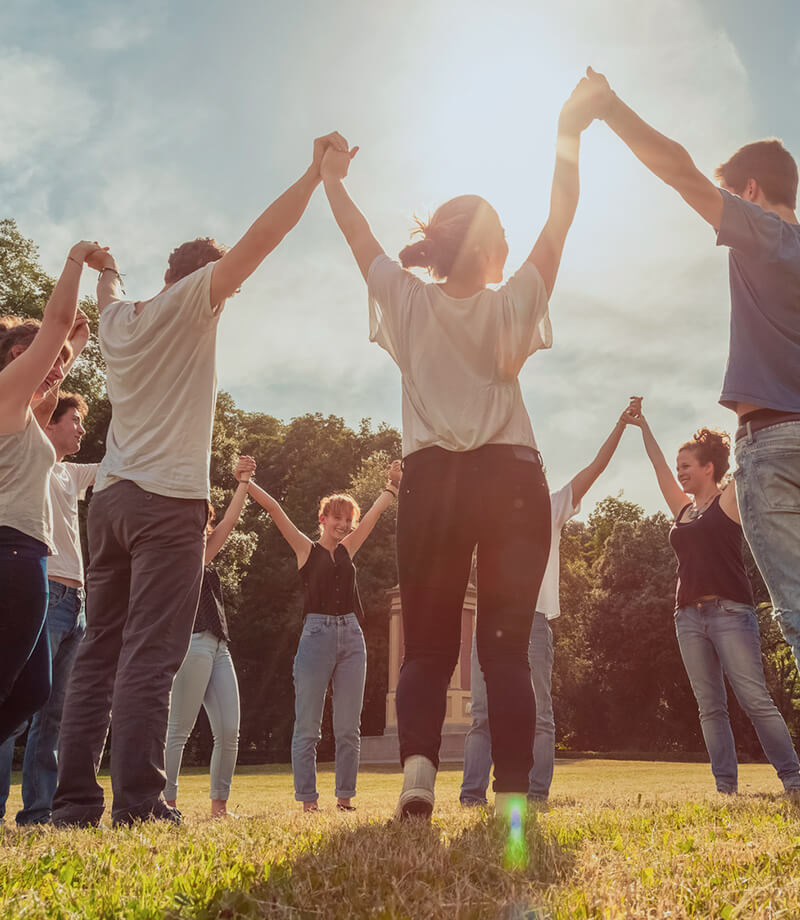 Faith, love and hope – in your own way. Young people need free spaces for themselves. Our church is a space where youth can meet. Throughout the two year long course preparing for confirmation young adults confront questions about God and the world. In our library we have fascinating literature in Italian and German for young adults.
"Heart and hand" of our community  for more than thirty yearts. Our women are meeting every wednesday afternoon Any subject can become a topic for further discussion: family, politics, music, literature, art, history, theology – in short everything that life has to offer
Quite rightly Barbara Streisand once said sassily:" You can persuade men, but you have to convince women." 
Our women stand together. Whoever needs help or just someone to talk to, you'll find someone among them. As has been said above: they are our "heart" and "hand".
Request information about our faith and sharing activities
"Lord, allow that all those who seek you, find you, and all those who have found you, seek you again, until all our seeking and finding is filled with your presence."
Such has written the theologian and school headmaster Hermann von Bezzel (1861 – 1917). This is an expression which describes our encounters in homes very well: about four times a year our group in the Emilia-Romagna meets in one of the members' homes. After coffee and cake starts the discussion of a topic. 
Everyone is invited to participate. Truth we can only find together. Every meeting, even after the most heated debates, ends with a comunal dinner.
Time-off the daily grind. Repose for body and soul. Twice a year on a weekend our community offers recreational excursions to a beautiful spot: aboard are members from every corner of our community, an interesting topic and a fun and diverse programm for the youth and children.
"Music is a pure gift and God's donation; it ousts the devil, it lets people rejoice and bans all thoughts of vice" has been said by Martin Luther. Singing is joy, especially in our choir "The church choir of joy"
Everyone can join: women, men, old, young, Italians, Germans, Catholics, Protestants, settled and temporary Florentines. 
We are singing during church service, at events in our church or under the sky – but always with joy! And we also enjoy being merry.
Choir leader Margherita da Ronco
She leads the choir and brings it to shine not only in the reamls of music.
The works of Johann Sebastian Bach will resound nowhere else as lovely as in our Evangelical-Lutheran church with its Bach-Organ; but our church also offers a wonderful acoustic for other composers and musicians.
We also have a Bechstein concert grand in our parish hall for intimate concerts in the style of the romantic salon. Four times in spring and four times in fall we offer sophisticated and varied concerts under the artistic direction of our cantor Francesco Giannoni. We invite you cordially! Entry is free of charge.
Cantor and organist Francesco Giannoni
He is the musical director in our community. Besides the musical accompaniment of the church services he is also responsible together with the committee for music for the organization of musical events, especially the concert series in spring and fall.
When Philipp Melanchthon, the great humanist and collaborator of Martin Luther, was asked about the essence of christendom he said: "Freedom – that is christendom". 
He intended the wonderful freedom to trust in God, the freedom to be free from the forces of realization of oneself and the helpful and useful freedom to shape this world in Christian terms.
The reformers through their studies of the bible had regained a profound conscience for this freedom of being children of God and understood this freedom also as a duty to educate or simply to forster and nourish curiosity and encourage reading. In the same vein we offer thematic days dedicated to a topic, seminars and talks to current questions of theology and ethics.
Whether you want to wander at night through Florence tracing the footsteps of German poets or enjoy live jazz sipping on strawberry wine cooler or whether you want to eat veal sausage on a bavarian themed evening and listen to stories or whether you want to learn all the tricks and themes of argentinian Tango or instead talk about Friedrich Nietzsche, the atheist son of a pastor, or whether you want to wonder together with the muslim Navid Kermani about christendom: all this and more you can do at the events organized by the culture committee. We always provide snack and drinks hoping for enthusiastic and interesting encounters among all.
Ask for information about our faith and sharing activities